I love pictures. Pictures of my family, friends, scenery, animals, or even people I don't know. I LOVE looking at pictures. So I've decided to post some pictures from my life. I have hundreds of pictures, so I just picked some random ones that make me laugh and smile. I hope you enjoy looking at them and feel free to comment.
Here's my AWESOME dad!! Don't you wish your's was like this:)
Gabe, my cute little brother!! He is always trying to be like dad, hence the mustache! But he definitely looks more like Hitler than dad.
Gabe at his best!
My family (well part of them) awaiting the AWESOME Marshall Fall Fest Parade! Starting at the top: Rudy-my brother-in-law, my sister Miriam, ME!!!, daddy-o, eldest sister Katie-isn't she HOTT!!, my mommy, and my second oldest sister Kristy-Rudy's wife!
My friend Allie! Don't we look so good! After this picture was taken she kept coming up to me and hitting me in the head screaming, "Hard hat!" Yep that's Allie:)
My AMAZING Korean friend, Pammymcpampam aka Pamara:) Or you can call her Brendies! We're licking the Washington Monument-funny, right?
Pam, Kendall, and I boating in Maryland. There's some funny stories here that include Pam losing her top and Kendall driving a bit too fast! Haha-great memories!
My hometown friends! From left to right: me, Abby, Nicole, Sarah, Whitney, Vanessa, and Melanie. MISS YOU GUYS!
This is after a sister-brother date night. We took about 15 pictures and never got a good one-thank you Nathan!! Left to right: Nathan (Nate-dawg), Josef (Joe), me, and my gorgeous sister Kendall! Aren't my brothers so CUTE!!
A night on the town! Kendall, Pam, and myself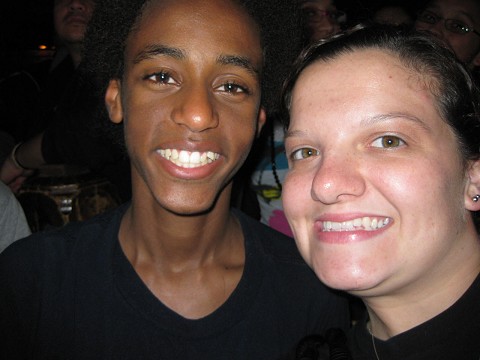 I took Josef and Nathan to a The Academy Is… concert in Chicago. This picture was taken after Josef was crowd surfing:) He's drenched in sweat-90% of which isn't his! GROSS but that's the life of concert!
My oldest sister, Katie, and me on the GREAT WALL OF CHINA! We're doing the traditional asian pose!
Katie, Kendall, and me after grocery shopping in China!
My best friend and I had these shirts made. Aren't they great?! Too bad I look absolutely RIDICULOUS in this picture:)
Katie and I lost in a cornfield maze! If you're wondering, those bands across our heads are actually bands to medical mask things. Apparently some people wear them in corn mazes so they can breath. Katie and I are wearing them for fashion-DUH!!
Little eskimos! Pam and I walking across campus in negative weather!! NOT FUN!
Once again I'm lost in the cornfield. You might be thinking I'm crying because I'm lost. But in all actuality the reason is just over my shoulder-I had to go through the maze with Paul Brown:) Haha-jk! Good times!
Nate and I at the Illinois-Indiana football game. Of course we(Illinois) KILLED them:)
Two of my closest friends-Nicole and Allie. I actually have a complete album of pictures like these. We were a little bored to say the least:)
Barn dance!! Nicole, Katie, and myself! We are AMAZING barn dancers:)
This is just one of many pictures of me trying to eat some really gross fried stuff. While in China, Katie, Kendall, and I went to a market for tourists, and I ate starfish, honey bees, scorpion, sea horse, and centipede. As you can see, I was having some problems with it:)
Me, Katie, and Paul. Good times in the corn maze:) Look at our faces-hahahahaha!!
Ok I will:) While on a mission trip to Philadelphia, we went to the famous stairs that Rocky runs (or at least that's what I was told-I've never seen the movie). Anway, so Nicole, Allie, and I got our picture taken with Rocky!! Don't we look Rocky-ish?!
So there you go. Just some pictures that let you see a little into my world. I hope you enjoyed them and there will definitely be more on the way soon (hopefully some from Georgia!). Have an AMAZING day!